Placing a Quality Photo Ad is as easy as 1, 2, 3!
1 Click Register to register with QualityPhotoAds.com.
Simply enter your name, a password and your email address and you will instantly receive an e-mail back that has a verification link. Click on it and you will be automatically registered Ė Itís that easy.
2 Once registered, you can Place a PhotoAd.
We offer 3 types of Photo Ads:
FREE Ads if you are listing items or services that you are donating for FREE. These Ads are absolutely FREE!
Photo Ads if you are listing items or services for a week and only need three photos. These Ads are $3.50 per week.
Storefront Ads
if you are listing items or services for a month and need up to eight photos. These Ads are $25.00 per month
Simply choose the Ad type, a category and sub category for your product or service and type in the description. You can type up to 1,000 characters Ė Thatís about 200 WORDS!
3 Once you have typed your description you can add up to three pictures in either GIF or JPG format.
Simply locate the pictures on your computer or on a CD, and browse to them and select them by name. If you do not have the pictures on your computer you can email us for assistance. An easy way to get pictures on your computer is to have them developed and placed on a CD.

You can place a link in your ad that points to your own web site!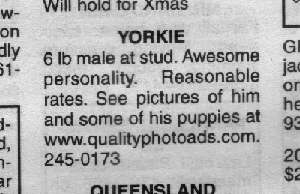 You can cut the cost of your print ads by limiting your words in the ads, and including www.QualityPhotoAds.com in your print ads, directing your buyers to read your detailed description of your items and see your 3 full COLOR photos! If the newspaper comes out on Thursday you can place your Photo Ad to also come out at the same time! Serious buyers will be calling you soon!
If you choose to include a FREE map to your location you will never have to wait around the phone, describing the items and giving directions over and over again! Simply visit mapquest.com and find a map to your location. Then "copy" the address (in the address area of your browser) and paste it into a web link in your ad. It's that easy!
Here are some other benefits of using QualityPhotoAds.
If you sell your item before your week is up you can list another item at no additional cost. Suppose you had a lot of different pieces of furniture or miscellaneous items to sell. You could place an ad in the newspaper for furniture and miscellaneous items. Then you could place the furniture and items you have on QualityPhotoAds.com. When they sell you can replace the items with new items. You could even preview your garage sale using QualityPhotoAds.
Also, how many times have you discovered an error in the newspaper ad and had to live with it for an entire week until the next paper came out. With QualityPhotoAds you can change the ad or add additional information to your ad anytime you like - 7 days a week 24 hours a day.